Hello all and welcome to the inauguration of my column! *Pretend as if there's a jauntily dressed band marching along and a Vargas girl cutting a big pink ribbon while glitter floats through the air!* Okay, now that the over the top ego-reinforcing imagery is out of the way, let me introduce myself. My name is Wendy Sanders and I'm a freelance hair and makeup artist in Austin, TX! My business, Blood and Glitter Makeup, specializes in pin-up hair and makeup, and when not working, I'm also a burlesque performer with Austin's most entertaining and diverse group of burly-q ladies, Black Widow Burlesque!
This is me: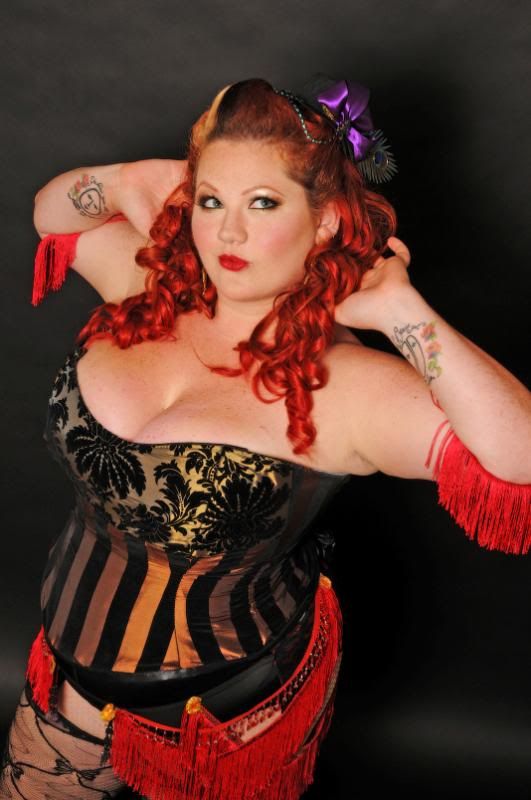 Photo by Rene Campos
My column is here to answer your questions on all things hair and makeup. I'd like to rescue all the rockabilly ladies and burlesque beauties out there from a life of limp pin curls and bad cat-eyes! So until I get some mail from you all, I'm going to start with what I consider to be one of the most common offenses out there.
Limp pin-curls
An important staple of a good pin-up hairstyle is a pin-curl that will last as long as you do! So often I see ladies that start the evening strong, but an hour in all that dancing has dragged their hair down, and the pin-curls begin to looks like some sad little noodles damply clinging to their foreheads. There are only two things you need to fix this; hairspray and a fine-toothed comb! A good tall pin-curl needs a base to it to stay strong and tall all night, so don't be afraid of a little backcombing.
Now I'm not talking 80's-esque crazy teasing here, but some gentle backcombing to give a base to your style. Start by taking the section of hair that you want to make into that tall pin-curl and spray the lower couple of inches from your roots with a little hairspray. Now proceed to gently backcomb the area while the hairspray dries until you can let go of the hair and the base will stand up on its own. At this point you can go back and smooth out the remaining hair around the base before pinning it in place. And don't be afraid to set that sucker once it's where you want it! I'm a big fan of Freeze-It brand hairspray; really anything that's not too watery! This trick is especially helpful for people with fine or super-straight hair! And if you have slick or fine hair, don't be afraid to spray some hairspray in it to texturize it and make it easier to manipulate.  Bottom-line, any good strong hairstyle needs a strong base, and backcombing and product is the way to make it happen!
Photo by Steve DeMent Photography, hair and makeup by Blood and Glitter Makeup
Write in with any hair or makeup questions you may have to bloodandglittermakeup@gmail.com
You can learn more about Wendy and see her work on her website, www.wendymichellesanders.com.